We carry a wide range of products from Apple, and offer training and service and support to ensure that you enjoy the full capabilities of your products for years to come.
Mac COmputers & Accessories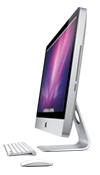 Murray Digital Entertainment Systems is proud to offer the latest computer systems from Mac, Including the iMac, MacBook series of laptops, Mac Pro, AirPort wireless network systems, and a full range of accessories to help you get the most from your Mac.
Stop in and let our knowledgable staff help you pick the right computer to match you and your computing needs.
Full iPod Line
We also carry the full line of iPod models, and can help you decide which is right for you. Whther it's a Shuffle, Nano, CLassic, or the versatile and multi-funtional iPod Touch, we've got what you need right here in a veriety of colors! We can also help you with transferring your music, videos, TV shows, email, and more to your new iPod.
iphone accessories
Interested in switching to the world's #1 smartphone? We carry the full line of iPhone accessories and can get you up and running in minutes!
Don't forget to protect your investment with a sleek protective case or cover. We have a wide selection of approved accessories to go with your iPhone so that you can get the most from it and enjoy it for years to come.